Q10 MIRACLE Firming and Hydrating sheet mask
For all skin types
At a glance
Moisturizes dehydrated skin
Helps energize dull, tired skin
For smoother and firmer skin
Coenzyme Q10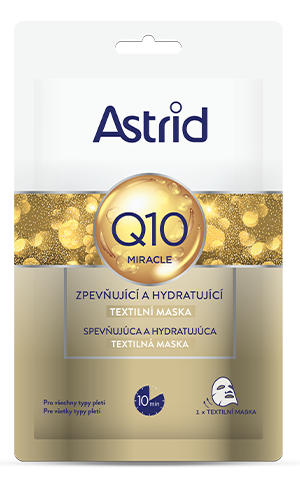 Q10 MIRACLE Firming and Hydrated Sheet Mask is the perfect solution for a dehydrated and tired looking skin. The mask is infused with a serum containing coenzyme Q10, which is naturally found in our body and helps produce cell energy, stimulate collagen production and protect from oxidative damages. It also includes a red algae extract, known for its ability to leaves the skin smoother and firmer as it activates collagen synthesis. After the use, the skin feels smoother, plumper, fresher and healthy looking.

Dermatologically tested.

1. Open the packaging in the identified edges.
2. Unfold the mask and carefully apply it on cleansed face, avoiding the eye and lips area.
3. Remove the protective film.
4. Leave on the mask for 10 minutes.
5. Remove the mask by gently peeling off from the edges. Massage the excess product on your skin, to be absorbed completely, or use a cotton pad to remove it.