ASTRID Q10 MIRACLE Anti-wrinkle & Revitalizing Night Cream
At a glance
Antiwrinkle and regenerating action
Collagen production
Increased skin elasticity
Visibly smoother skin
2.5 million micropearls of coenzyme Q10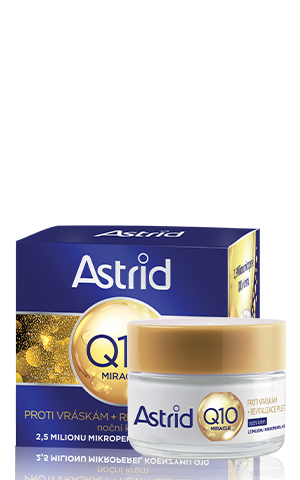 ASTRID Q10 MIRACLE antiwrinkle & revitalizing night cream with 2.5 million micropearls of coenzyme Q10, stimulates production of collagen, reduces wrinkles and fine lines and offers skin a youthful look. Provides to skin rejuvenating treatment while sleeping, resulting in a naturally radiant and full of energy skin look.

Coenzyme Q10 contained in the cream is an active ingredient naturally found in our body that helps energy production in cells and protection from oxidative damages. As we age, the production of Coenzyme Q10 in our skin is reduced. As a result, cells lose their antioxidant power and their vitality, key factors for a healthy young skin.

Apply every evening into thoroughly cleansed face, neck and decollete, avoiding eye area.