BEAUTY ELIXIR Antiwrinkle and Hydrating day cream
UV filters
At a glance
Reduces wrinkles
Smoothes and radiances skin
Precious oils complex
PRO-ELASKIN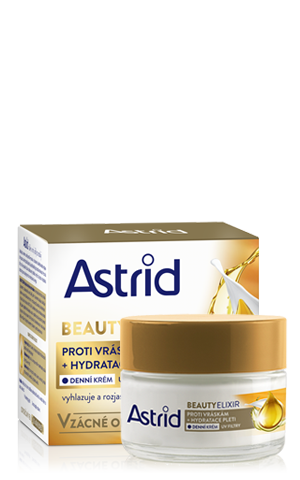 Antiwrinkle Moisturizing Day cream combines the power of the three precious oils (argan, macadamia and almond), with unique nourishing and protecting properties, to offer smooth, velvety soft look to your complexion. The cream is enriched with PRO-ELASKIN, an exclusive antiageing & antiwrinkle complex that helps promote the formation of collagen and elastin in the skin, improves the skin's capability for water retention for a radiant looking skin. Εnhanced with UV filters to help protect the skin from premature ageing and wrinkles formation.


PRECIOUS OILS COMPLEX
• Argan oil, through its moisturizing properties helps protect and hydrate skin
• Macadamia oil rich in omega essential fatty acids, supplies nourishment assuring a soft skin feeling
• Almond oil with a high content in Vitamin E and an excellent source of fatty acids, helps smoothen the complexion, leaving it radiant and supple.


Dermatologically tested


Recommended usage ages 35+ - 55+


50ml

Apply daily into thoroughly cleansed face, neck and decollete, avoiding eye area.The cream is easily absorbed and is ideal as a base for make-up.