BIORETINOL Advanced anti-wrinkle day cream
At a glance
Reduces lines & wrinkles
Smoothes & brightnes skin
Bakuchiol
Vitamins Complex (B5, B3, C & E)
Hyaluronic Acid
SPF 10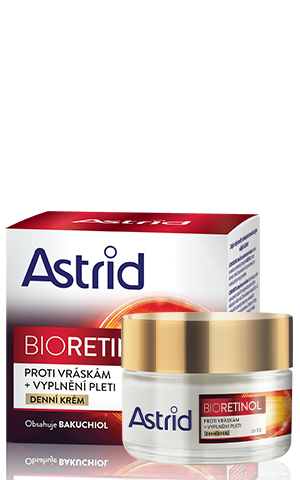 ASTRID BIORETINOL Advanced anti-wrinkle day cream effectively moisturizes, pleasantly tones and firms mature skin. Its formula includes a unique "cocktail" of antiageing ingredients including Bakuchiol, Vitamins Complex and Hyaluronic acid. Bakuchiol, the natural alternative to retinol, is an age-defying essential: diminishing visible lines and wrinkles while encouraging elasticity and smoothing the skin for a velveteen finish. It offers strong antiaging action and revitalization, without irritating the skin (redness, flaking, irritations). In combination with Vitamins and Hyaluronic acid, this antiwrinkle face cream leaves your skin smoother, brighter, with less visible wrinkles. Enhanced with vitamins B5, B3, C & E, it helps to strengthen the skin, slows down color changes and alleviates other imperfections to support its natural brightness. Enriched with SPF 10 to protect the skin from UV radiation and premature aging. For smoother, softer and rejuvenated skin.

Dermatologically tested
Recommended usage ages 45+ - 55+
50ml

Apply daily into thoroughly cleansed face, neck and decollete, avoiding the eye area. For better results, we recommend using it in combination with Astrid BIORETINOL Advanced Antiwrinkle Night Creams & Serum.