HYALURON 3D Anti-wrinkle & Firming night cream
At a glance
Reduces wrinkles
Improves skin firmness
3D Hyaluronic Complex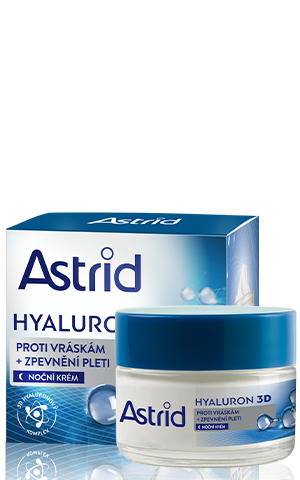 HYALURON 3D Anti-wrinkle & Firmness Night Cream offers powerful antiwrinkle action and intensive hydration, while improving skin's firmness and elasticity.
INNOVATIVE FORMULA WITH 3D HYALURONIC COMPLEX:



Hyaluronic Acid filler: acts as topical dermal filler and smoothes the skin surface immediately after application.
Hyaluronic acid of lower molecular weight: penetrates even the deepest layers of the epidermis and helps to visibly reduce fine lines and wrinkles by improving the skin's elasticity for a healthier looking skin.
Hyaluronic acid stimulator: helps restore the optimal level of hyaluronic acid by stimulating its natural synthesis and renewal, providing intense hydration, skin resistance, firmness and wrinkle reduction.


Dermatologically tested.

Apply every evening into thoroughly cleansed face, neck and decollete, avoiding eye area.To clean you skin before the application of the cream, choose the suitable products for you, from the Astrid Fresh/Soft Skin cleansing lines. For better results we recommend to use it in combination with Astrid Ultra Repair Anti-wrinkle & Firming Day Cream.