HYALURON PLUS Antiwrinkle and Firming Night Cream
At a glance
Reduces wrinkles
Improves skin firmness
For naturally radiant looking skin
Duo Hyaluron Complex
Hydroviton Plus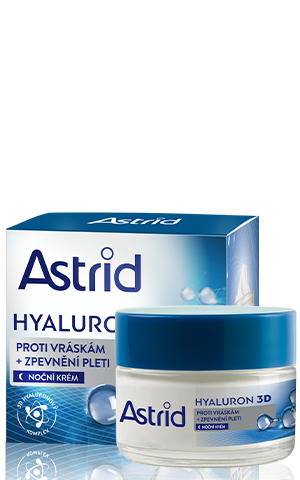 Mature skin is in need of extra moisture to fight the harmful environmental agents as well as the internal water loss that causes loss of elasticity & appearance of wrinkles. HYALURON PLUS Antiwrinkle and Firming Night Cream helps reduce the depth and length of wrinkles and deliver a younger looking, firm skin. Fortified with Duo Hyaluron Complex, which acts in two levels:
1. immediately after application it smoothes the upper layer of the skin
2. by penetrating in the lower layers of the epidermis, it helps to improve skin's elasticity and firmness.
HYDROVITON® Plus, an intensive moisturizing complex, helps maintain skin`s optimum moisture levels, leaving your skin velvety soft and supple. Offer to your skin rejuvenating treatment while you sleep, for a naturally radiant looking skin by morning.
Dermatologically Tested.
50 ml

Recommended usage age: 40-50

Apply every evening into thoroughly cleansed face, neck and decollete, avoiding eye area.To clean you skin before the application of the cream, choose the suitable products for you, from the Astrid Fresh/Soft Skin cleansing lines. For better results we recommend to use it in combination with Astrid Ultra Repair Anti-wrinkle & Firming Day Cream.