BIORETINOL firming and revitalizing tissue mask
At a glance
Hydrates and firms skin
Smoothes & brightnes skin
Bakuchiol
Vitamins Complex (A, B3, B5, E & F)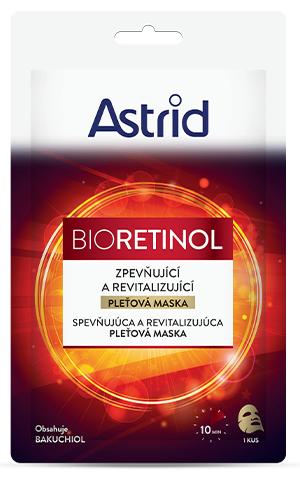 ASTRID BIORETINOL firming and revitalizing tissue mask leaves mature skin hydrated, firmer and smooth. It is filled with active serum enriched with bakuchiol which offers a strong anti-aging and skin revitalization effect without the risk of skin irritation. Bakuchiol, the natural alternative to retinol, is an age-defying essential: diminishing visible lines and wrinkles while encouraging elasticity and smoothing the skin for a velveteen finish. It offers strong antiaging action and revitalization, without irritating the skin (redness, flaking, irritations). The composition is also enriched with vitamins A, B3, B5, E, C and F, which help to improve skin elasticity and texture, strengthen the skin and improve its tone and imperfections. The skin looks unified, replumped, more radiant and younger.

Dermatologically tested
20ml

1. Open the packaging in the identified edges.
2. Unfold the mask and carefully apply it on cleansed face, avoiding the eye and lips area.
3. Leave on the mask for 10 minutes.
4. Remove the mask by gently peeling off from the edges. Massage the excess product on your skin, to be absorbed completely, or use a cotton pad to remove it.