CITYLIFE DETOX Night recovery and radiance night cream
At a glance
Hydrates skin
Offers skin radiance
Protects from environmental aggressors
Active charcoal
Fruit acids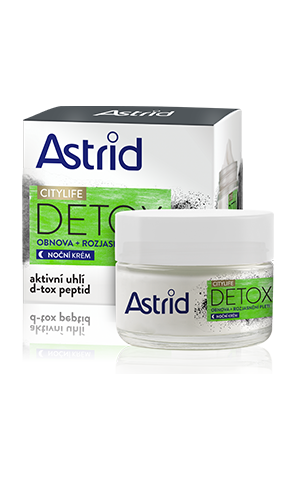 CITYLIFE DETOX night recovery and radiance night cream is our daily ally which helps to regenerate and detox your skin during sleep, for a healty, radiant, youthful looking skin.

How does it work?
It contains D-tox peptide, an innovative active that acts on multiple levels to revive our skin's energy:
• Antioxidant: prevents cells' oxidative stress and restores skin's luminosity
• Anti-pollution: acts like a shield to prevent UV rays and free radicals from damaging your skin
• Skin's natural defense booster: Maintains & boosts Collagen production for a healthier and more firm looking skin

The cream is enhanced with active charcoal that acts like a magnet, helping to trap pollutants and dirt to ensure a clean and fresh skin feeling Enriched with AHA (fruit acids) that provide gentle exfoliation and skin regeneration for a more radiant look.

* proved by active ingredient through in vitro test./ in vitro test on active ingredient

Apply every evening into thoroughly cleansed face, neck and decollete, avoiding eye area.