PEO Antiperspirant deo foot spray
At a glance
24h deo protection
Protects against sweating
Refreshing efect
Fast-drying composition
Odour Neutralizing Technology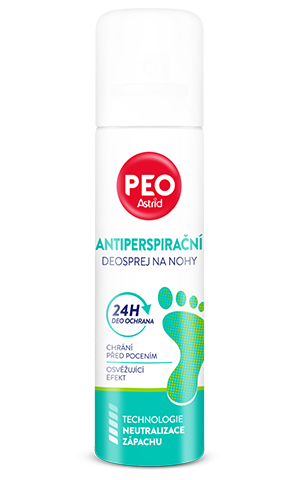 PEO Antiperspirant deo spray for feet was specially developed to help protect feet from sweating and odor formation.



With Odour Neutralizing Technology it provides 24h protection against unpleasant smells.
Composition with an effective combination of antiperspirant and deodorant substances helps provide long-term protection against perspiration.
Refreshes tired feet, provides them a pleasant cooling sensation and leaves them with fresh smelling.


Dermatologically tested.

150ml

Shake well before use. Apply the spray evenly from a distance of 10-15 cm on dry and clean skin of the feet, especially on the feet and between the toes.