ASTRID SUN Easy Spray SPORTS SPF30
At a glance
SPF30 - High Protection
INNOVATIVE SUN TECHNOLOGY: Full Spectrum Photo Stable Protection from UVA + UVB + IR + VL
Carotenoids Complex (Carrot, Tomato, Cranberry and Burity Oil)
Active Antioxidant Protection
Effective Moisturizing Action
360◦Spraying System
Practical format, ideal for active people and sports activities
Non Oily - Easy to Absorb
Water Resistant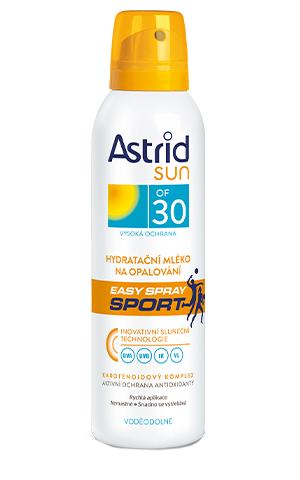 ASTRID SUN Moisturizing Suncare Easy Spray SPF 30 with INNOVATIVE SUN TECHNOLOGY UVA + UVB + IR* + VL*, provides to skin broad spectrum photostable protection from the harmful effects of UV, infrared radiation and visible light. Composition enriched with CARROTENOIDS COMPLEX (carrot, tomato, cranberry and burity oil), provides active antioxidant protection, helps strengthen the skin's natural defenses and protects against premature aging.

IDEAL FOR SPORT. Fast and easy application, can be applied in any position (even upside down). Continuously and evenly sprays the light emulsion, while its practical format is ideal for active people and sports activities.
*In-vitro test in IRA & HEVL.
Dermatologically tested.

150ml

Shake well before use. Apply on dry skin before sun exposure. To protect body skin adult average size should be 36 g sunscreen, i.e. approximately 6 teaspoons. Reducing the recommended amount significantly reduces the level of protection. Do not stay in the sun too long, even if you have used the device on sunscreen. Avoid especially the direct midday sun (10-16 hours). Overexposure to the sun is a serious health risk. To maintain protection application again, especially after perspiring, swimming or toweling. No sunscreen product does not provide 100% protection against the sun. Protect yourself from sunlight clothing, a hat and sunglasses.