ECO CARE PROTECTION FACE CREAM SPF 30
At a glance
SPF 30 - High Protection
INNOVATIVE SUN TECHNOLOGY: Full Spectrum Photo Stable Protection from UVA + UVB + IR + VL
UV filters respectful of marine and terrestrial life
Hypoallergenic composition
Ophthalmologically tested
Non-greasy texture
Nature-friendly packaging
Waterproof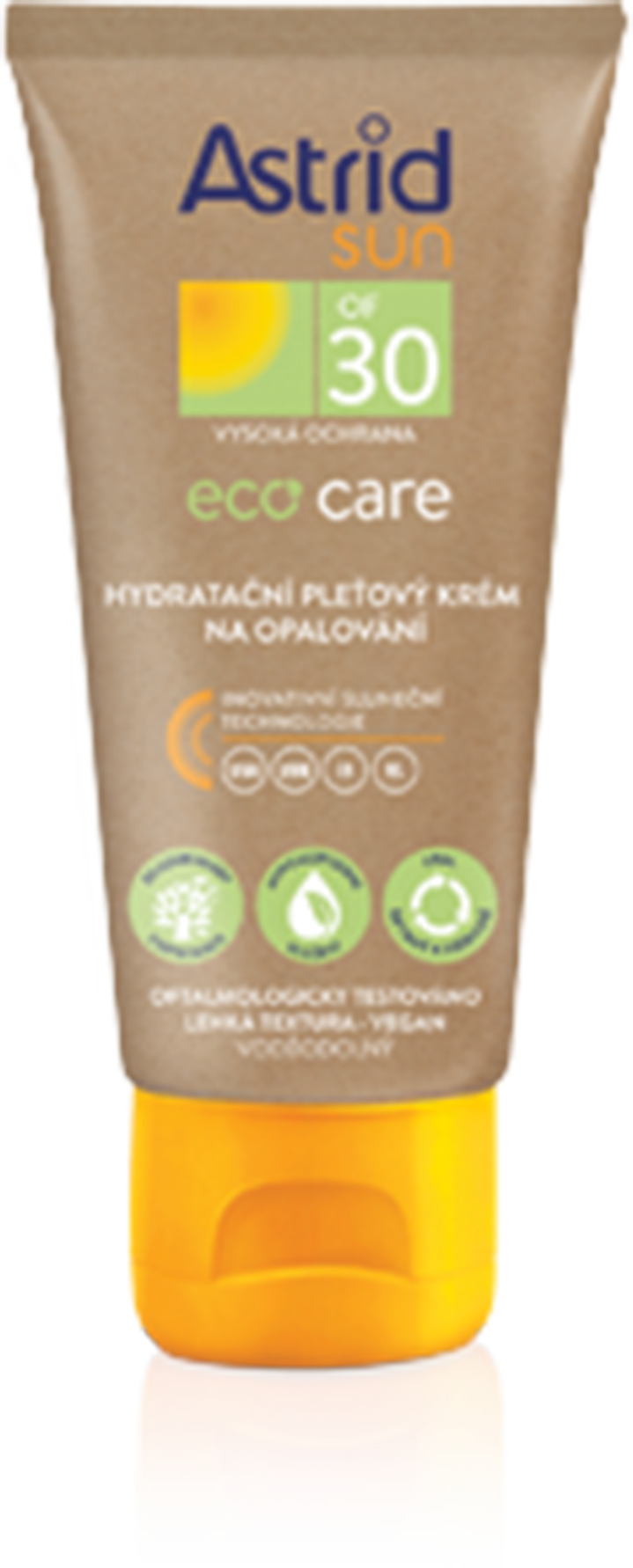 Astrid. Always caring.





INNOVATIVE SUN TECHNOLOGY: Broad spectrum photostable protection from the harmful effects of UV, infrared radiation** and visible light**.




ECOSUN PASS® CERTIFIED: Technology of ecologically balanced UV filters, considerate to the environment. Scientific tests have confirmed, that this technology meets 8 criteria of sustainability in relation to marine and terrestrial life and are considerate to human health. The composition takes care of the ocean ecosystem, does not contain UV filters octinoxate, oxybenzone and octocrylene.




HYPOALLERGENIC FORMULA: Suitable for sensitive skin. Developed to minimize the risk of allergic reactions.




ECO CONSCIOUS PACKAGING: 100% recyclable. 70% recycled tube sleeve* and FSC paper box, reducing environmental impact.





Moisturizing action with light, fast absorbing texture that does not leave white marks.
Ophthalmologically & dermatologically tested.
* Excluding tube cap.
**In-vitro test in infrared radiation (IR) and visible light (HEVL).

Apply a sufficient quantity on skin before sun exposure, avoiding the eye area. To protect body skin adult average size should be 36 g sunscreen, i.e. approximately 6 teaspoons. Apply in a quantity proportional to the size of the face. Reducing the recommended amount significantly reduces the level of protection. Do not stay in the sun too long. Avoid especially the direct midday sun (10-16 hours). Overexposure to the sun is a serious health risk. Re-apply frequently during sun exposure, especially after swimming, sweating or toweling. No sunscreen product provides 100% protection against the sun. Protect yourself from sunlight wearing clothes, hat and sunglasses.