SENSITIVE SUN PROTECTION FACE CREAM SPF50+
At a glance
SPF 50+ - Very High Protection
Specially developed sun protection even for the most sensitive skin types
Clinically and ophthalmologically tested
INNOVATIVE SUN TECHNOLOGY: Full Spectrum Photo Stable Protection from UVA + UVB + IR + VL
With organic Hemp Seed Oil with soothing effect
Non-greasy texture
Fragrance free
Very water resistant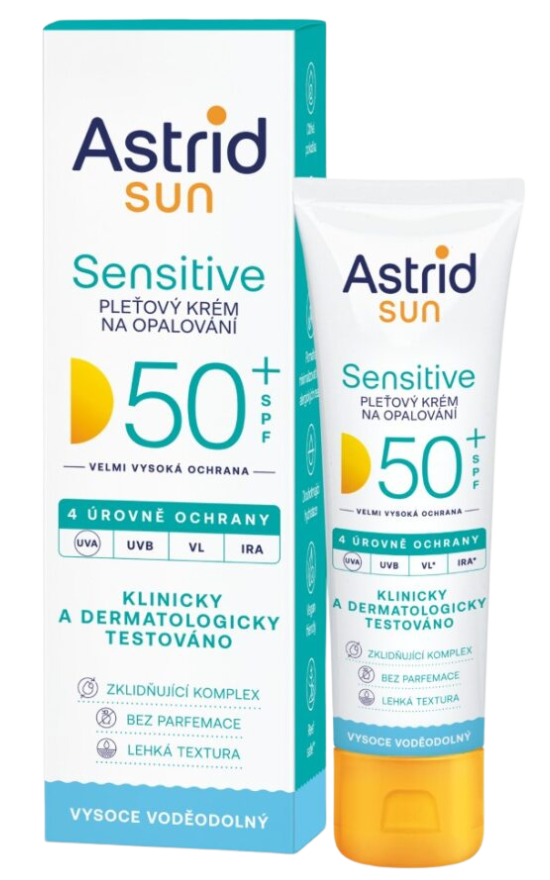 ASTRID SUN SENSITIVE Face Cream SPF 50+ for Sensitive Skin with INNOVATIVE SUN TECHNOLOGY UVA + UVB + IR* + VL*, provides to skin high, immediate broad spectrum photostable protection from the harmful effects of UV, and protection from infrared radiation (IR) and visible light (VL).
With specially developed formula that provides safe sun protection even for the most sensitive skin types, offers moisturizing and protective action during sun exposure, thanks to the organic Hemp Seed Oil, a strong natural caring and moisturizing factor.
Fragrance-free formula with non-greasy texture.
*In-vitro test in IRA & HEVL.
Developed to minimaze the risk of allergic reactions.
Clinically and ophthalmologically ** tested. ** Tested under normal conditions.

50ml

Apply an sufficient quantity of sun cream on skin before sun exposure, avoiding the eye area. To protect body skin adult average size should be 36 g sunscreen, i.e. approximately 6 teaspoons. Apply in a quantity proportional to the size of the face. Warning: reducing the recommended amount significantly reduces the level of protection. Do not stay in the sun too long. Avoid especially the direct midday sun (10am-4pm). Overexposure to the sun is a serious health risk. Re-apply frequently during sun exposure, especially after swimming, sweating or toweling. No sunscreen product provides 100% protection against the sun. Protect yourself from sunlight wearing clothes, hat and sunglasses. For external use only.