TERIBEAR Lip Balm
SPECIAL LIMITED EDITION
to support Tereza Maxová Foundation
At a glance
By buying you donate 5 CZK to Tereza Maxová Foundation
Effective hydration and protection
Cocoa butter, Jojoba Oil
Hydrasoft, Vitamin E
UV filters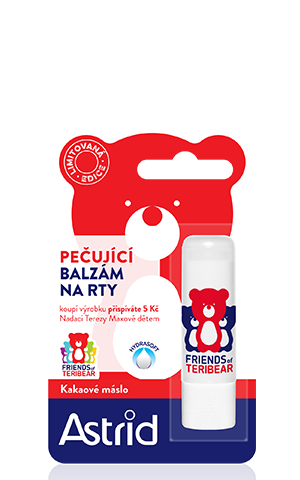 Take care of your lips and bring a smile on child's face!


Teddy bear TERIBEAR is the main symbol of Tereza Maxová Foundation charity project, which supports the return of children from institutional care into the family environment.


By buying this special limited edition TERIBEAR caring lip balm you donate 5 CZK to Tereza Maxová Foundation and together with Astrid you help to find a new, happy home for abandoned children. For more information about the foundation visit www.nadaceterezymaxove.cz. (TERIBEAR caring lip balm is distributed only in Czech Republic.)


TERIBEAR caring lip balm enriched with cocoa butter, jojoba oil and vitamin E helps to provide effective hydration and protection to your lips, while leaving them soft and supple. UV filters help protect from sun radiation. Hydrasoft, an advanced active complex of hydrating natural oils and waxes, it helps protect lips from dryness, while maintaining their smooth appearance and soft feel. Enjoy beautiful and healthy looking lips all day!


Dermatologically Tested.

Apply daily on your lips, as often as necessary, to keep them well cared and moisturized.