COLLAGEN PRO Antiwrinkle and firming eye cream
At a glance
Antiwrinkle and firming action
Reduces dark circles
Renovating collagen
4-peptide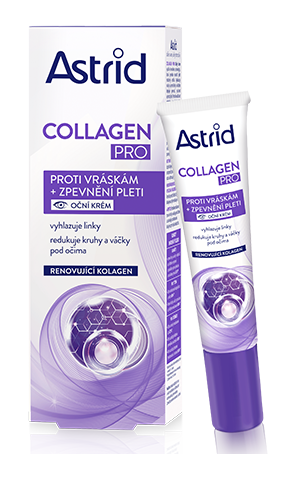 COLLAGEN PRO antiwrinkle and firming eye cream is based on an innovative anti-wrinkle & firming system that provides youthful skin appearance. The skin feels moisturized and refreshed while wrinkles and fine lines are smoothed. Skin around the eye area feels firmer, softer and more elastic.


POWERFUL ACTIVE INGREDIENTS
• RENOVATING COLLAGEN: A powerful anti-wrinkle peptide for visibly smoother and plumper skin that feels significantly firmer and more elastic.
• ACTIVE COLLAGEN: Helps refill collagen loss, while boosts skin moisture retention and restores skin's fullness.
• MICRO FRAGMENTED HYALURONIC ACID: penetrates even the deepest layers of the epidermis, helps prevent collagen degradation for visibly reduced wrinkle appearance.
• 4-PEPTIDE: Helps reduce puffy eyes and dark circles and prevents collagen crosslinking, for better elasticity.

Apply every morning and evening into thoroughly cleansed skin, around the eye area, with a gentle patting motion.