SAHARA Suncare Spray Oil SPF 6
At a glance
SPF6 - Low Protection
UVA & UVB protection
Quick tanning
Exotic Oils Complex
Water resistant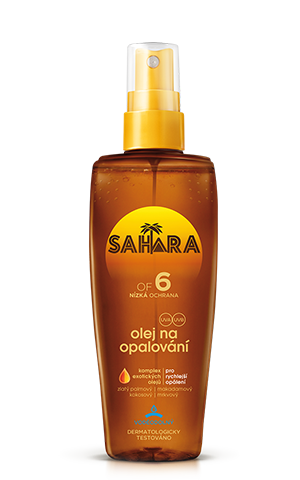 SAHARA Suncare Spray Oil SPF6 effectively protects from UVA&UVB radiation, responsible for sunburns and premature ageing. Enriched with the specially developed Exotic Oils Complex (Carrot, Macadamia, Golden palm, Coconut oils), it helps accelerate tanning, offers antioxidant protection and helps moisturize skin. Your skin feels velvety soft, with a fresh, exotic scent.
Let yourself indulge in the exotic world of SAHARA and enjoy a naturally tanned skin!

Dermatologically Tested
150 ml

Spray evenly an abundant quantity over the entire body, before sun exposure and reapply frequently, especially after swimming, toweling & perspiring. Do not spray directly on face, spray into hands and then apply, avoiding eye area. To protect the body of an average adult, the applied quantity should be 36 g sunscreen, i.e. approximately 6 teaspoons. Warning: reducing the recommended quantity will lower the level of protection significantly. Avoid exposure to the sun during midday hours (11am-4pm). Over-exposure to the sun, even while using a sunscreen product, is a serious health threat. Suncare products do not protect 100% from UV radiation. Keep babies and young children out of direct sunlight. Protect yourself, wearing hat, T-shirt & sunglasses. For external use only.