SAHARA SUNCARE SPRAY OIL SPF 20
At a glance
SPF20 - Medium Protection
UVA + UVB Protection
With Coconut, Macadamia and Carrot oils
Help promote tanning
Water Resistant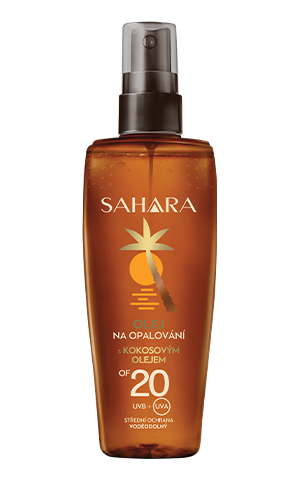 SAHARA Oil Spray SPF 20 protects the skin from the harmful effects of UVA and UVB radiation that cause sunburn and premature aging.
Formula enriched with coconut oil and tan accelerating agent, provides faster and more intensive tan, while promoting hydration of the skin, helping maintain its tanned color for longer. Macadamia & Carrot oil help promote tanning. Pamper yourself with SAHARA suncare line and live a unique suncare journey!
Dermatologically tested.
150ml

Shake well before use. Apply an abundant quantity on dry body skin before sun exposure until fully absorbed. To protect body skin of an adult, the average size should be 36 g sunscreen, i.e. approximately 6 teaspoons.
Warning: Reducing the recommended amount significantly reduces the level of protection. Do not stay in the sun too long, even if you have used sunscreen. Avoid especially the direct midday sun (10-16 hours). Overexposure to the sun is a serious health risk. To maintain protection, apply again, especially after perspiring, swimming or toweling. No sunscreen product provides 100% protection against the sun. Protect yourself from sunlight with clothing, a hat and sunglasses.