ASTRID SUN Wet Skin Spray SPF 30
Application on wet skin.
Ideal for sports.
At a glance
SPF30 - High Protection
INNOVATIVE SUN TECHNOLOGY: Broad Spectrum Photo Stable Protection from UVA + UVB + IR
Application on wet skin
Ideal for sports
Tan accelerating
Water Resistant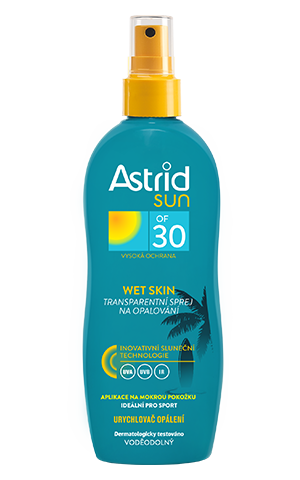 Astrid Sun Wet Skin Spray SPF 30 with INNOVATIVE SUN TECHNOLOGY UVA + UVB + IR*, offers effective, broad spectrum photo stable protection from the harmful effects of UVA, UVB and infrared radiation. Ideal for application on wet skin and for active people, swimmers & sports fans that seek a tanning experience with high protection, in an easy-to-apply product. Enriched with tan accelerating ingredients that facilitate the tanning process, and Carrotenoids Complex, full of strong natural antioxidants that help boost skin's natural defense system, offers in depth care to your skin and protection against photo-ageing, while ensuring long-term health and youthful look.

*Test in vitro.
Dermatologically Tested.

150ml

Spray evenly an abundant quantity over the entire body, before sun exposure and re-apply frequently, especially after swimming, toweling & perspiring. You can also apply on wet skin or during sports activities. Do not spray on the face area. To protect the body of an average adult, the applied quantity should be 36 g sunscreen, i.e. approximately 6 teaspoons. Reducing the recommended quantity will lower the level of protection significantly. Avoid sun exposure during midday hours (11am-4pm). Over-exposure to the sun, even while using a sunscreen product, is a serious health threat. Suncare products do not protect 100% from UV radiation. Keep babies and young children out of direct sunlight. Protect yourself, wearing hat, T-shirt & sunglasses. For external use only.