ASTRID SUN Moisturizing Suncare Milk SPF 6
At a glance
SPF6 - Low Protection
UVA & UVB Broad Spectrum Protection
Effective Moisturizing Action
Multivitamin Complex (B-Carotene+A+E+F)
Non Oily - Easy to Absorb
Water Resistant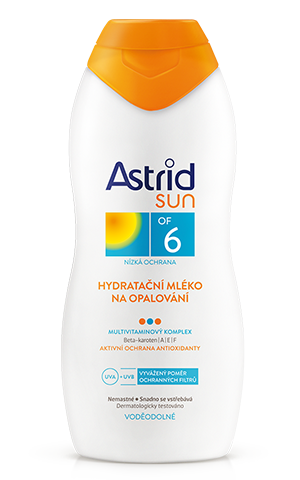 ASTRID SUN Milk SPF 6 provides advanced protection against UVA/UVB radiation, with broad spectrum, photostable filters. Enriched with the specially developed Multivitamin Complex (Β-Carotene, A, E, F), it offers antioxidant action, protecting from premature ageing, ensuring safe tanning. Εnhanced with D-Panthenol and natural betain, helps moisturize skin, protecting it from moisture & elasticity loss.

Dermatologically Tested
200 ml

Apply evenly an abundant quantity over the entire body, before sun exposure and reapply frequently, especially after swimming, toweling & perspiring. To protect the body of an average adult, the applied quantity should be 36 g sunscreen, i.e. approximately 6 teaspoons. Warning: reducing the recommended quantity will lower the level of protection significantly. Avoid exposure to the sun during midday hours (11am-4pm). Over-exposure to the sun, even while using a sunscreen product, is a serious health threat. Suncare products do not protect 100% from UV radiation. Keep babies and young children out of direct sunlight. Protect yourself, wearing hat, T-shirt & sunglasses. For external use only.