ASTRID SUN Kids Trigger Spray SPF 30
For face and body
At a glance
SPF30 - High Protection
INNOVATIVE SUN TECHNOLOGY: Full Spectrum Photo Stable Protection from UVA + UVB + IR + VL
For Kids Sensitive Skin - Face & Body
Extra Caring Formula (β-GLUCAN & PROVITAMIN D)
Light & pleasant textures
Very Water Resistant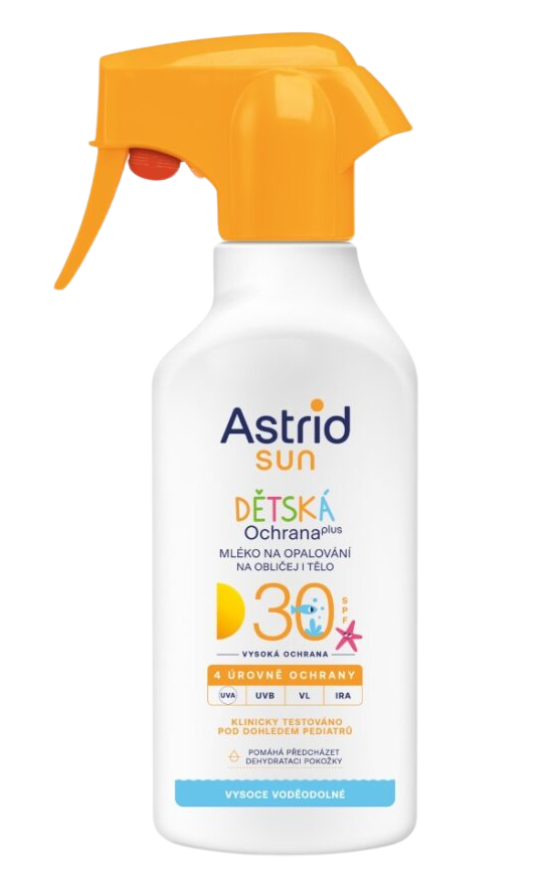 Astrid Sun Kids Milk Spray SPF 30 with INNOVATIVE SUN TECHNOLOGY UVA + UVB + IR* + VL*, provides broad spectrum photo stable protection from the harmful effects of UV, infrared radiation and visible light, and it is especially formulated to address kids' sensitive skin. Fortified with Provitamin D and β-GLUCAN, helps stimulate children's sensitive skin immune defense for better resistance against external factors, while helping minimize possible skin irritations & redness and retain skin's moisture.
With light, easy to absorb formula.
Developed in order to minimize the risk of allergic reactions.

*Test in vitro.
Dermatologically and clinically tested.

200ml

Shake well before use. Spray evenly an abundant quantity on dry skin over the entire body, before sun exposure, and re-apply frequently, especially after swimming, toweling & perspiring. Do not spray directly on face, apply to hands and then rub the lotion on the face, except for the eye area. To protect the body of an average adult, the applied quantity should be 36 g sunscreen, i.e. approximately 6 teaspoons. Apply proportional quantity to the size of the child. Reducing the recommended quantity will lower the level of protection significantly. Avoid sun exposure during midday hours (11am-4pm). Keep babies and young children out of direct sunlight. Over-exposure to the sun, even while using a sunscreen product, is a serious health threat. Suncare products do not protect 100% from UV radiation. Protect children from sunlight with clothing, hat and sunglasses. For external use only.