KIDS & BABY 100% NATURAL FILTER CREAM SPF30
At a glance
SPF 30 - High Protection
100% natural filter protection: Zinc oxide mineral filter for sensitive kids' skin
INNOVATIVE SUN TECHNOLOGY: Full Spectrum Photo Stable Protection from UVA + UVB + IR + VL
D-panthenol for extra moisturizing action
82% natural ingredients
Developed to minimize the risk of allergic reactions and photoallergy
No white marks
Very water resistant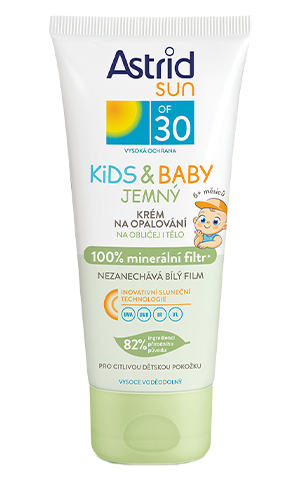 ASTRID SUN Kids & Baby 100% Natural Filter Cream SPF30 with INNOVATIVE SUN TECHNOLOGY UVA + UVB + IR* + VL*, provides to skin broad spectrum, photostable protection from the harmful effects of UV, and protection from infrared radiation (IR) and visible light (VL).
The ultra-soft formulation has been developed to minimize the risk of allergic reactions and photoallergy. Offers light texture for easy application without leaving white marks on the skin and contains D-panthenol, for extra moisturizing action.
*In-vitro test in IRA & HEVL.
Clinically and dermatologically Tested.
100ml

Apply evenly an abundant quantity of suncream on face & body, on dry skin, before sun exposure, and re-apply frequently, especially after swimming, toweling & perspiring. Avoid application around eye area. To protect the body of an average adult, the applied quantity should be 36 g sunscreen, i.e. approximately 6 teaspoons. Apply proportional quantity to the size of the child. Warning: reducing the recommended quantity will lower the level of protection significantly. Avoid sun exposure during midday hours (10am-4pm). Keep babies and young children out of direct sunlight. Over-exposure to the sun, even while using a sunscreen product, is a serious health threat. Suncare products do not protect 100% from UV radiation. Protect children from sunlight with clothing, hat and sunglasses. The product is suitable for children from 6 months. For external use only.